Boosting Sales for Fair Harbor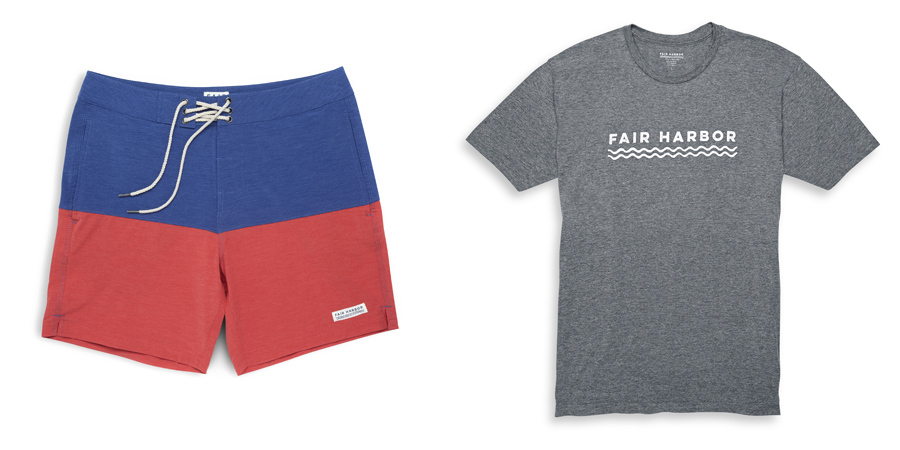 Whether it's at the grocery store, picking up your favorite iced coffee or reading the headlines, you are aware. The imagery is shocking; Young Whale Dies after Swallowing 88 Pounds of Plastic Bags, the reports are startling, plastic is a problem.  There are some incredible legislative moves and big brand initiatives working to raise awareness and support rectifying the issue by ditching the plastic. We're seeing other action taking place, producing creative and useful options toward the movement, creating something out of the problem. One of these brands happens to be one of our favorite clients, and we are honored to partner with such awesome mission and brand, Fair Harbor. 
Each year in the United States alone, 50 billion plastic bottles get used and discarded after oner use.  If one of those plastic bottles ends up in the ocean, it breaks down to 39,000 pieces of micro plastic.  Fair Harbor exists to mitigate single-use plastics by transforming recycled plastic bottles into exceptional swimwear.  Each Fair Harbor swimsuit is made directly from 3-22 recycled plastic bottles. Brother and sister team; Caroline and Jake Danehy grew up on the beach of Fair Harbor, Fire Island.  The two connected with the ocean – surfing, fishing, riding bikes – they witnessed plastic waste wash up on the shores first-hand.  As they learned about plastic's destructive impact on our environment, they committed themselves to create positive change.  Fair Harbor is determined to inspire environmental mindfulness and promote the world wide reduction of single-use plastics through the brand.  Their mission is to keep our shores clean, plastic out of our waterways and to offer customers an amazing product at a great price. 

Fair Harbor also believes in brand building and product selling with the power of professional imagery.  While their mission leads them in the running for the best client award, the value they put on our services contributes to the slant. We often talk about BPP's selling points; high quality and cost effective solutions with a quick turnaround, right? But we don't always push versatility.  Jake first came to us with a simple layflats (or flat lay) request. This type of shooting is essentially uncomplicated apparel shots; steaming, minimal styling product on a white background.  As a start up, he understandably had budget concerns.  Depending on the quantity of shots and the nature of the apparel, we are often able to save clients on the heavy expense of a soft-good or wardrobe stylist.  There is a misconception out there that apparel or "flat lay" is just that, lay it flat…click, peace out.  Not quite.  There is actual time and effort that go into apparel imagery.  Even what looks like a simple shot requires some love; removing or adding wrinkles and ripples, creating texture, life, appeal…a sale.  E-Commerce photography begs for attention, you want the traffic, you need sales, right? Your customers want quality, authenticity, true colors, real fit and sizing and these cart to sale requirements require professionals with experience, integrity and know-how. Flat lay isn't just for apparel, the technique is gaining in popularity in the beauty blogger and Instagram space. The layout allows for a lot of subjects in one overhead shot, with the right styling it can be a story telling beautiful shot of product (apparel or not), food, lifestyle commodities, etc. Check out of our favorite flat lay inspiration pages @flatlays. Going back to versatility, we're seeing a lot of brands utilizing more than just the flat lays.  In some cases, front and back is simply not good enough.  On model and/or ghost mannequin shots, (see our recent blog highlighting this service) product shots on white, product shots in a different environment, details, and the latest, gif images.  FH has utilized almost every potential shooting option and the customers are speaking in way of sales. The more views, the better the user/customer experience.  
GIFs are gaining in popularity boosting CTR and E-Commerce sales. GIF is an acronym for Graphics Interchange Form, a series of images creating animation or a super short video.Though the pronunciation debate has yet to be settled, the value of this tool is crystal clear.  Clickz writes "12 Reasons for brands to use GIFs in content marketing". One of the best takeaways:
"Better than images but cheaper than video. Brands started loving the idea of using GIFs in their content marketing strategy after finding them more appealing than images, but also cheaper (and easier) to be created, comparing to videos".
Jake at FH boasted, "using the 'Anchor short' GIF we sold out on our anchor short inventory in 2 weeks. We sold more than 2,000 units." Impressive numbers for a minimal investment. It's animated fun, good for your customers and great for your budget.  
So how does a small/young startup find the budget for high quality and versatile images? The answer might surprise you.  Here at BPP, we consider most budgets, especially in the spirit of new business and maybe even more so for young entrepreneurs…that happen to be trying to save the planet. We were able offer Jake a discounted new client rate that we are still able to honor today. With Peri's impressive styling experience and capabilities we were able to save FH on stylist costs. 
So the next time you find yourself searching for new swimwear or apparel, please check out Fair Harbor; fresh looks and sustainable products.  And the next time you find yourself looking for a commercial photography or video studio with unparalleled experience and capabilities…well, you know where to go: www.brennerphoto.com