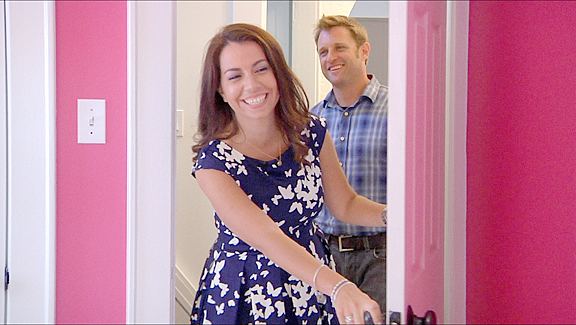 On Saturday, October 26th, 2013 our very own Nicole Amesti, a brilliant digital artist and department manager,was featured on NBC's George to the Rescue at 10:00AM. Nicole and her family were fortunate enough to have their home beautifully renovated, at no cost, by the television show. The circumstances however, that put Nicole and her family in this position were anything but fortunate.



In April 2008, Brenner Photo suffered an enormous loss; not just huge in personality, but also in talent and in size.  Measuring up to a towering 6'9, gifted Photographer and Studio Manager, Scott Catania, was of course a basketball star.  As he graciously brought his skills to a 9/11 charity basketball game, he collapsed of heart failure.  Scott tragically passed away a few days later, leaving his friends, family and fellow employees with just the memory of his humor, kind heartedness, and of course, his passion for family and photography.
Five years later, chillingly to the exact date, the professional family at Brenner Photo was once again forced to endure a challenging and heartbreaking reality. Nicole Amesti laid her husband to rest after a 9 year battle with cancer.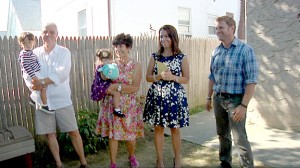 In the years that Nicole spent with Jim and the awful disease, the pair was always living with, but never dominated by, cancer.  Friends and family of the couple will always tell you, "You never knew he was sick".  Jim didn't allow cancer to overcome him, or get in the way of the incredible life he shared with Nicole and their twins, Jack and Abigail.  Near the end of Jim's battle, Nicole saw Brenner Photo as a place of solace as life's challenges grew.  She credits work for getting her through the hard times that continue to remain ever present.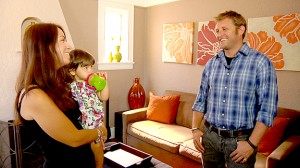 We are a tight community at Brenner.  The majority of the company has been here for over 5 years, some 10 and others, like Nicole, 15 years.  We witnessed Nicole's devastating heartache, and have watched her transform her perspective and outlook on life, shockingly, for the better.  Her refusal to surrender in the face of unthinkable hardship has been absolutely inspiring. Brenner Photo is lucky to have Nicole, and she is amazingly able to contribute even more than ever before.  The studio's success and efficiency is due, in great part, to her exceptional ability and dedication.
When you watch someone endure a loss like Nicole, you ask, "What can I do?"
Though Nicole continues to smile and joke while working, she still has many inevitable worries and concerns about her family. Over the summer, the reality of living in a two-bedroom home with soon to be toddlers began to weigh heavy on her.  In passing, Nicole mentioned her selfless plan to move into her basement, so Jack and Abigail could have their own rooms.  Even through tragic heartbreak, her children's comfort remained the paramount priority.  When you watch someone endure a loss like Nicole, you ask, "What can I do?" The question for most is typically rhetorical, but fortunately I saw an opportunity to do "something".  I knew of someone that could potentially help and could save Nicole from her makeshift basement bedroom.   I had been moved several times by the NBC show, George to the Rescue.  I watched the crew help families that circumstantially needed support by providing home renovations that facilitated a more comfortable and less worrisome life.  I wondered if George could do the same for Nicole.  When I shared her story with the show's producers, they were excited at the potential of helping a family in need.
They weren't completely sold on the Amestis until meeting Nicole and her family in person.  Their personality, love and positive perspective are what ultimately brought George to the rescue.  It soon became entirely clear to George and his crew that they had found a family that was very deserving of their help.  When Nicole and Jim were house shopping, the Massapequa home was particularly appealing because of the unfinished attic with spectacular possibilities.  The room would make for a great project down the road, adding value and space to the home.  Jim promised Nicole that if she agreed on that home, a beautiful master bedroom would be in her future.  Somehow, Jim was able to keep that promise.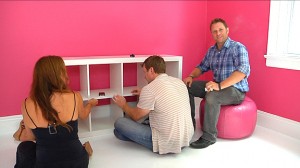 For 3 weeks, George and his crew worked tirelessly, to create a stunning upstairs oasis for Nicole, complete with a master bedroom, enviable closet space, and a radiant bathroom worthy of a design magazine centerfold. Downstairs, the twins inherited their own separate spaces.  Abigail's room became a little girl's pink dream, while Jack's territory was furnished with his dad's sports memorabilia and Jack's favorite color, orange.  While the GTTR crew worked on the home, everyone from producers and interns to contractors and plumbers gave Nicole and her family reason to smile. They added more than just renovations to the home, they brought laughter and friendship.  Everyone involved with George to the Rescue is just as benevolent as their mission. At the reveal, friends and family proudly wore "Lived Strong" bracelets, honoring Jim and his strength.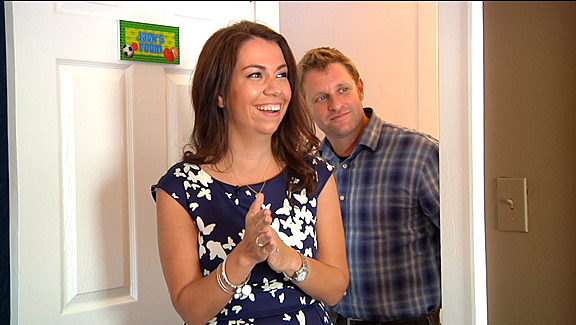 It was a beautiful moment, brimming with emotions that spanned the spectrum, but dominated by feelings of hope, love, and a fresh promising future.  While the renovations offer a new chapter for Nicole and her family, designer Deborah Baum added touches of Jim throughout the home.  And although the house would be nearly unrecognizable to Jim, his spirit is felt as strongly as ever and shared throughout the home, as it always will be.   In a time when the fragility of life reminded us of how unfair our world can be, George to the Rescue offered hope, comfort and happiness, proving that it can still exist.
The Amestis would like to thank the following people without whom, this gift would not have been possible:
George Oliphant – Host/Producer
Andrew Scerbo – Supervising Producer
Kristin Kropp – Field Producer
Alex Gittleson – Segment Producer
Andrew Bank – Production Assistant
Courtney Yost – Show Editor
Cierra Pacheco – Assistant Editor
Square One Construction
Spaces by Deborah Baum – Designer
Florence Building Materials
A & G Designs
Fancy Fixtures
PR Painting Corp.
MTS Plumbing & Heating Inc.
Eqwipt Glass & Mirror
West Flooring & Design
Galaxy Roll Off & Demolition
Renaissance Marble Works
RVC Floor Decor LTD
Workroom Creations
Luna Electric
Elegant Tile & Marble Co.
Angie's Closets
Ultimate Comfort Heating & Cooling
Riobel Faucets
Allison Goldenstein
Broadway Gourmet Deli
Lauren Potthoff (donated time for Nicole's hair)
Shab Siarezi (donated time for Nicole's makeup)